Secure Power was asked through one of our IT resellers to assist a medical supplies company based in Halifax with the supply of a diesel generator set. We provided a free site survey from which we determined that the customer occupies 5 of the 6 units on the business estate. We performed load measurements and ascertained that a 60kVA Prime-Rated Diesel Generator would provide the standby power needed to supply the entire warehouse and the office area and server room with 8-hours backup on a single tank of diesel fuel. A decision to future proof the installation was made and to achieve this; we provided a 6 in 1 Automatic Transfer Switch (ATS) Panel. This means that each business unit has it's own individually monitored and controlled generator power supply.
We designed and modelled the building's electrical infrastructure on our Amtech Pro electrical design software to ensure that the existing and additional electrical infrastructure operates within the BS 7671: 2008 18th edition regulations. The software allows us to optimise installations saving our customers money and being extremely competitive in our pricing. This, coupled with our engineering team's prowess, ensures that every project is skillfully engineered and optimised.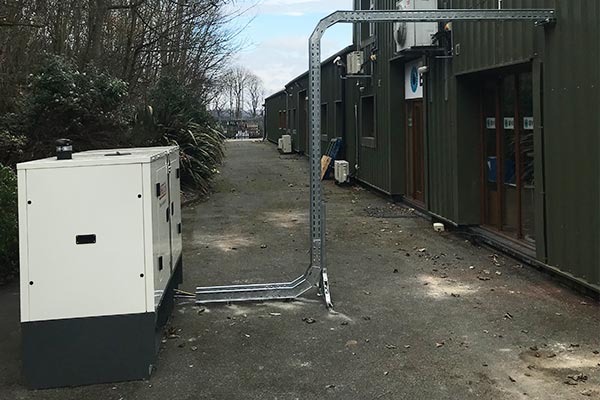 Our project management team ensured that the generator and all the equipment required to perform the installation was delivered, offloaded and positioned on site. Our installation team performed all the preparation works during the week, including the containment and cabling. The generator was tested and commissioned on the weekend to ensure minimum downtime and disruption to our customer's business activities. The entire site was migrated onto the new ATS panel within the 6-hour time frame allocated to us on Sunday.
To ensure the smooth running of the customer's critical server room load, we installed 2 x rackmount double-conversion online UPS systems. Online UPS systems provide full protection to critical loads from mains borne power anomalies. This is highly recommended when installing generators on site. Overall the project was a great success, and the end customer was pleased with Secure Power's competence.